Brazilian Koa Species Information
Beauty & performance are natural benefits of Brazilian Koa flooring.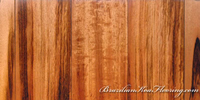 With an impressive hardness rating of 1850, Brazilian Koa is harder than Red Oak, Teak, and Cherry flooring. It is highly durable and resistant to the daily pressures of wear and tear. When you compare Brazilian Koa to other flooring options, the choice is clear.
Brazilian Koa facts and features are listed below.
| | |
| --- | --- |
| Description | Brazilian Koa is reddish-brown in color with dark brown markings. Grain is irregular, and interlocked with alternating layers of hard and soft wood. Texture is medium. |
| Origin | South America (Brazil) |
| Botanical Name | Astronium Fraxinifolium or Astronium Lecointei |
| Other Names | Tigerwood, Goncalo Alves, Zebrawood, Urunday-Para, Mura, Bois De Zebre, Chibatao, Guarita, Aderno |
| Janka Hardness | 1850 |
| Other Uses | Exterior decking, high-class furniture and cabinetmaking, fancy goods and decorative work. Excellent for turning. Sliced veneers used in architectural paneling and face veneering. |
| Comments | Most famously known as "Tigerwood". Review more detailed Brazilian Koa botanical facts. |