The Brazilian Koa Tree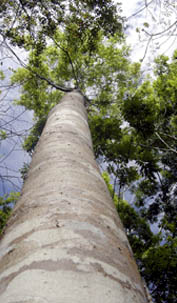 Brazilian Koa (Astronium Fraxinifolium or Astronium Lecointei, also known as Tigerwood or Goncalo Alves) grows across the jungles of South America. It is most prevalent in countries like Brazil, Paraguay, and Uruguay. The tree can grow anywhere between 75 and 120 feet, and reach trunk diameters of up to 5'. It is common in wet and dry forests, and a wide range of elevations, although it is most common around 1500 feet.
Brazilian Koa is harvested for use in high class furniture, cabinetmaking, fancy and decorative goods, turning, and veneers. It is also commonly used for deck building and exotic hardwood flooring.
To preserve the tree and ensure that its products will always be available, we only import Brazilian Koa flooring that has been harvested responsibly. You can rest assured when you order from us that your new floor will have originated from a managed forest where careful planning and harvesting is practiced everyday..