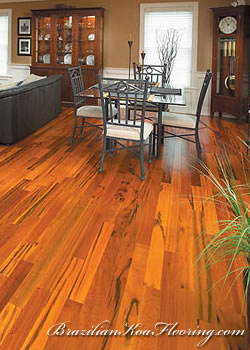 Brazilian Koa Flooring
Breath-taking... Stunning... Exotic.
A Brazilian Koa hardwood floor stimulates conversation and wonder with its brilliant display of contrast. With vibrant orange hues and daring dark streaks, a Brazilian Koa floor demands attention.
We can help give your home a whole new level of visual appeal. Our Brazilian Koa flooring prices are very affordable, especially when you consider the quality of each, hand-picked plank. We make sure to send you only the most outstanding pieces of high-quality exotic flooring. And, if you don't see exactly what you want on our site, you can call us directly for custom orders.
Make the bold choice...Choose Brazilian Koa flooring.